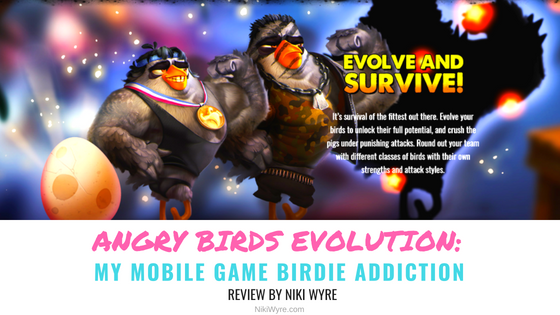 Angry Birds Evolution Review: My Mobile Game Birdie Addiction
by Niki Wyre
Title: Angry Birds Evolutions
Publisher: Rovio
Platform: Android and Apple iOS
Type of game: Free to play/ Action / RPG
Difficulty: Casual to Intermediate (Difficulty changes as you level up)
#of Players: 1 (but play computer PVP and work with clan)
Replay value: It never ends 😉
Game navigation: Pretty easy to navigate and has group on Facebook with people willing to help.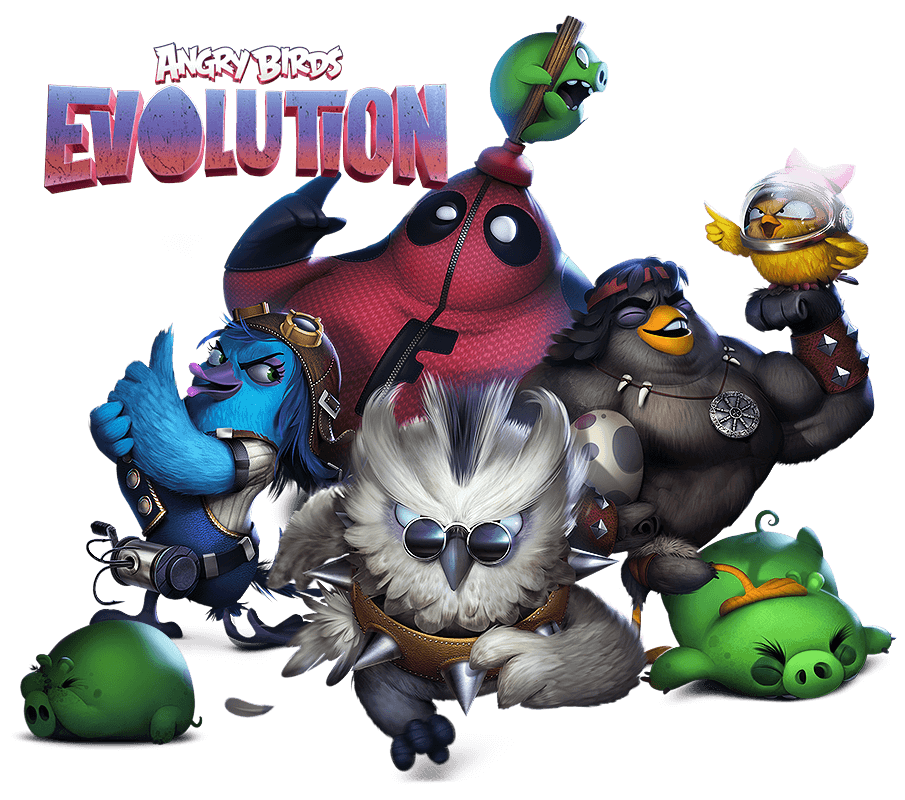 Do you like Angry Birds? Perhaps you enjoy games where you run arenas or collecting characters to build your team?
Do you like working in a clan?
Then Angry Birds Evolution is the mobile game for you.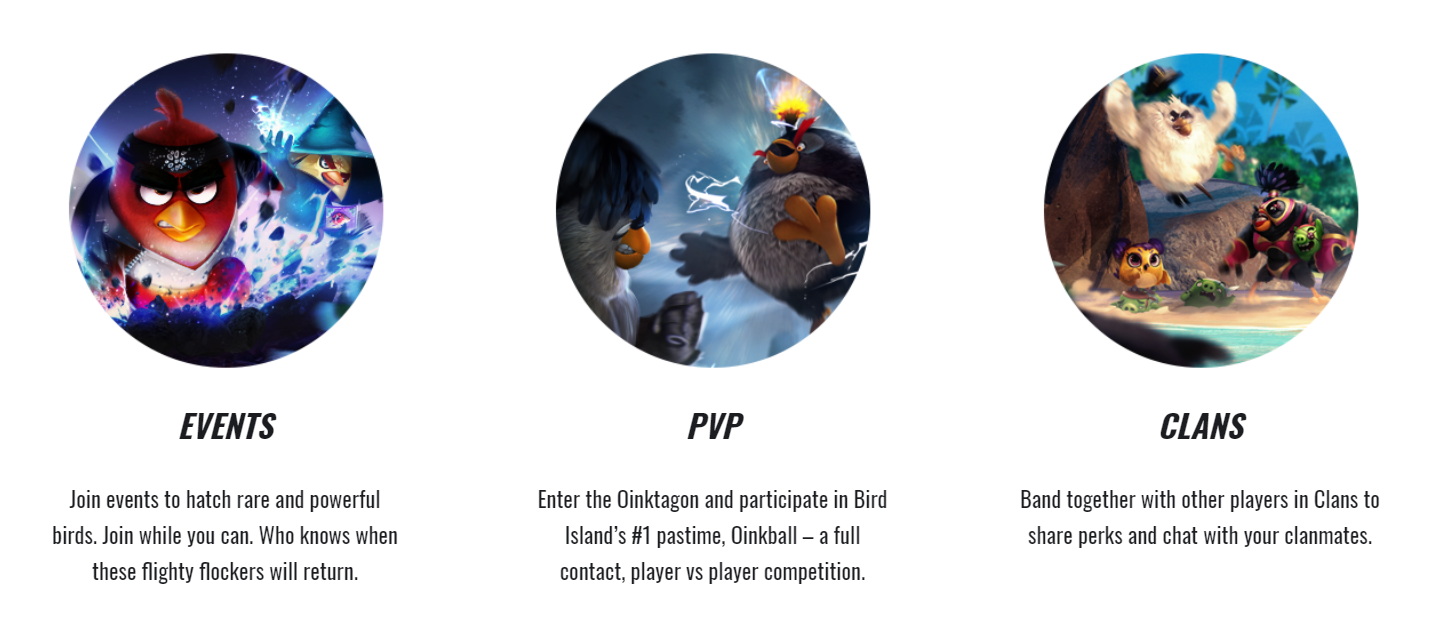 In Angry Birds Evolutions you will find all the above traits plus more. You will start off in a step by step tutorial learning powers of the different color birds and collecting your team as you conquer the island. Eventually you will open up to making friends, growing your squad and being able to battle in the arena.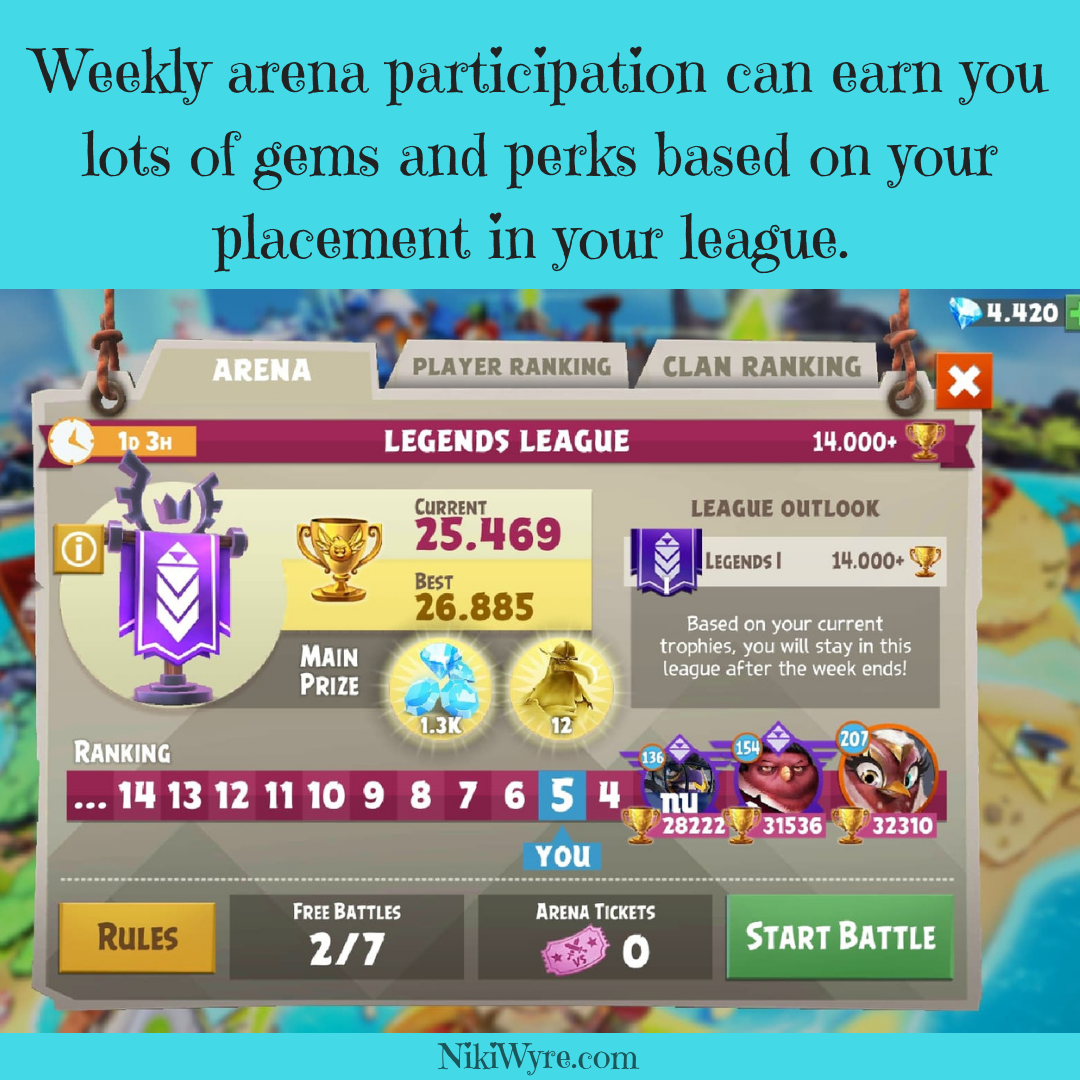 I highly recommend joining a clan when the option is available, even if you aren't in to being that social. You will gain perks from the clan, earning added bonuses during events and help achieve those group goals. If you are looking for a clan, you can do a simple search in game but it will just find a "suitable" match for you. This works great for those just starting out but for those that are looking to widen up more, check out the Facebook group Angry Birds Evolution: The Flockers or Reddit for clans that are recruiting or make your post that you are looking for a clan. Many clans are always looking for positions to be filled, especially if you are more than beginning status.
No matter what clan you land in, if you are going for a more strategic and hardcore plan, make sure they have some other kind of communication than in game chat as it is a bit unreliable. That is a bit ehhh for the game. I have had problem before where I am sitting next to my partner and his phone shows current chat and mine is still only showing chat from three weeks ago. Yeah. So some alternate game chat options are FB groups, FB messenger, WhatsApp, Discord, etc. Annnddd always donate back to your clan. The perks come back as well as xp bonus to your cred.
Events in game are where you will get the best birds or rewards, so in between stock up your silver and gold tickets for events. They will save you from wanting to spend real world money during events to get those special birdies for your team. I know there are a lot of spenders out there but it's a logic I can't quite wrap my head around as a lifetime gamer. I was born with the love to quest, grind and loot a few years before Nintendo… *cough cough*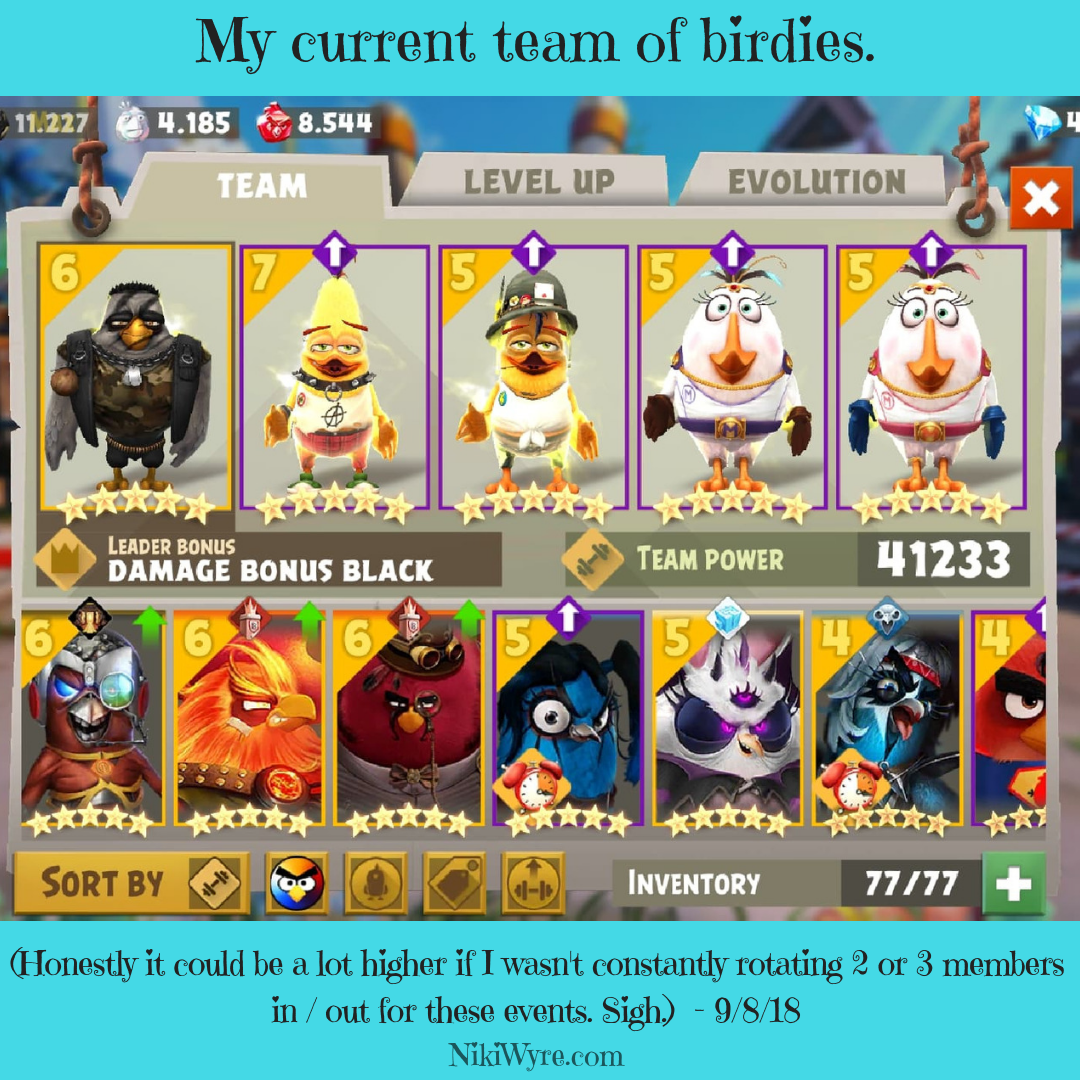 So how do I succeed most in the game without spending real world money? I mean I play A LOT… place a lot.. and don't spend. (Well okay I did have 2 or 3 small gift cards on special occasions long ago as gifts that lasted forever) Here are my tips:
– Run arena for keys, keys for dungeons for gold and goodies to evolve your new birds from events.
– Grinding arena also earns gems for each tier you go up plus perks depending on weekly placing in your league.
– Upgrade and evolve birds on colored days for most boost.
– Again, stock up silver and gold tickets for events.
– Extra gold given on gold days (Saturday).
– Take advantage of double key day (Sunday)- then turn around and use on dungeons for gold same day.
– Only evolve the birds you want to use on your main team and dungeon teams.
– Don't hold on extra lower star birds just because. (Seriously, get rid of those four or five 3*'s when you have a 5 star team.)
My only really complaint overall about this game will not be an issue until you have been grinding this game for a very long time but has to do with the repetition of the events, sports specifically.   A blog for another day…
If you would like to add me in game, my username as you can see from pics is "NikiTheGeek".
Enjoy and hope to see you in game with your own flock!  You can visit the Angry Birds site here.
<3 Niki Wyre
You might also like: