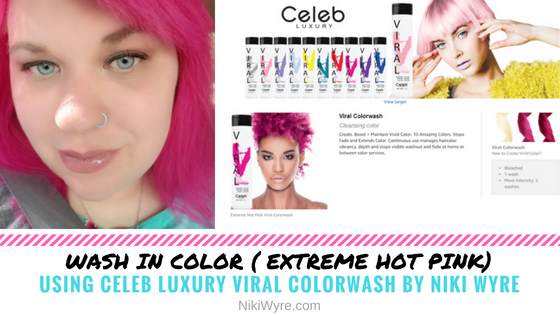 Wash In Color? Using Celeb Luxury Viral ColorWash
by Niki Wyre
When you have had nontraditional colors in your hair for as many years as I have, you pick up a lot of little tricks of over the years to make your color last as long as possible. Especially if you are going to the salon to get it done. It's one thing if you are doing one shade at home with some Manic Panic or Arctic Fox or Adore (loved that stuff for longevity) but you want to maximize your investment at salon, right?
Things that  I have learned over the years:
always wash in cold water (kills me every time- well past 12 or 13 year mark here lol)
sulfate free shampoo and conditioners
skip days between shampoo if possible – dry shampoo if necessary on off day
always use heat protectant on hair before using heat tools
(a weird one but it works) When doing vegan hair color at home after bleach, wash hair with dawn soap only before applying dye to make hair very thirsty for color. Sucks it all up. You will need extra dye but trust me, your color intensity will be worth it.
Now we come to the new thing I learned. I have been doing multiple colors at salon for a few years now since I could no longer lift my arms for long periods to do my own hair due to my autoimmune arthritis and fibromyalgia but the color fades fast. I kept seeing ads for conditioners that deposit a little bit of color each time but they were always back ordered and to be honest, I had multiple colors so that would be complicated to apply colored shampoo or conditioner in the shower.
Well I decided to take a big plunge and go for a change. After many, many years of always having all or mostly blue hair of some shade, I decided to go a bit off the beaten track for me. Yep, hello pink. A big shock to a lot of people really. Prior to last year, I spent my whole life seriously hating the color pink. Not sure what that is all about…
Now that my hair was all one color, I asked my awesome hair stylist / colorist (shout out to Danielle) about the color depositing conditioners in the ads. She quickly suggested I look up Viral instead. So I did. To my surprise, there are salons that actually use it to dye hair. Maybe I should of took heed to that and listened closely to her warnings to maybe only leave it on for 3-5 minutes tops, because I ended up with a really intense neon raspberry the night before my high school reunion from one shampoo. Ha ha. It was so not expected.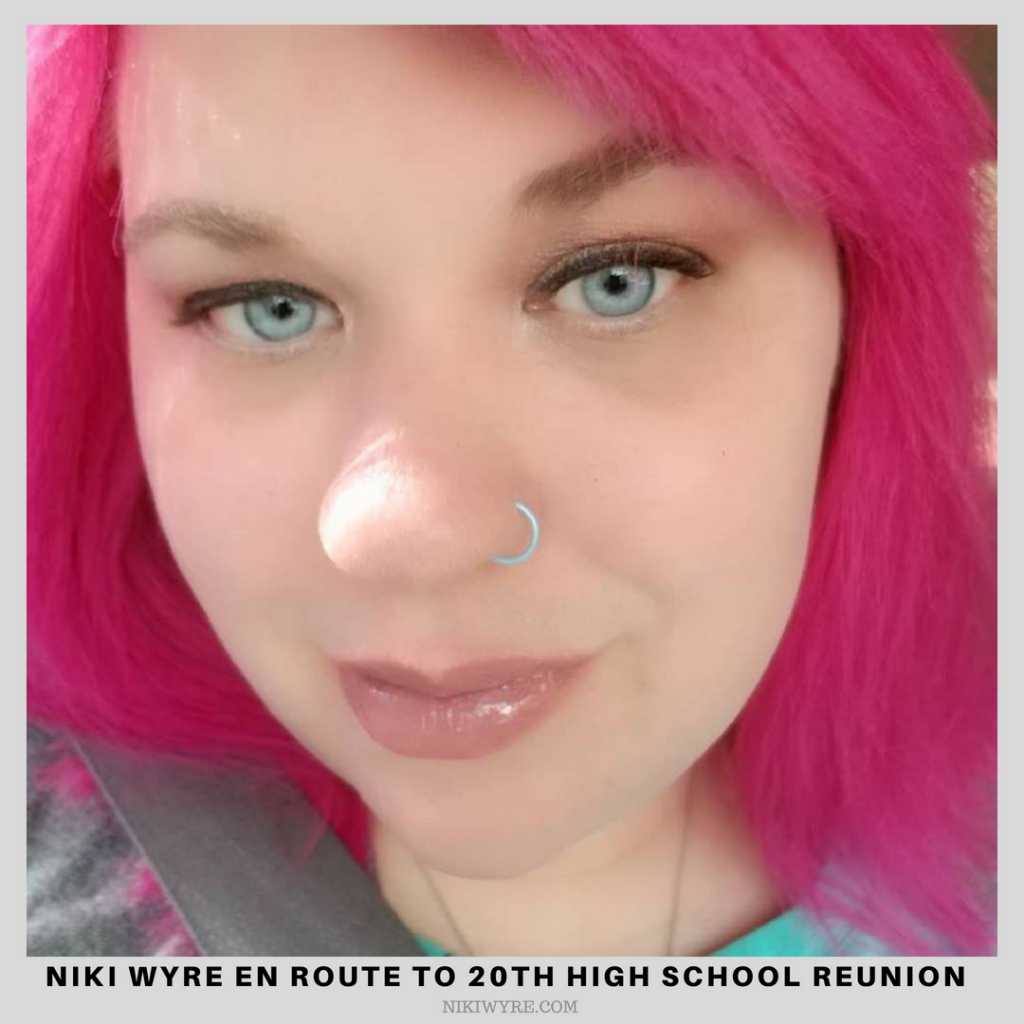 There is so much more in this bottle and my hair is just now starting to lighten up a bit many shampoos without it and 18 days later. I am going to count that as a major win though, No more faded to almost white hair by time I go in for touch ups and regrowth. Woot. Pink is here to stay I think. It intensifies and settled in nicely after plain shampoo washs.
I bought the Celeb Luxury Viral Colorwash Extreme Hot Pink on Amazon here. If you are a Prime member, it ships for free in 2 days. 🙂 Need more information? Check out their website ( https://www.celebluxury.com/) directly for more info on other product lines.
I will try to update you again in a few months after a few more uses.  Until next time.
<3 Niki Wyre