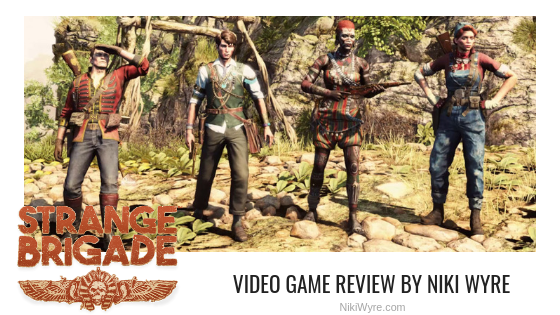 Strange Brigade Video Game Review – Ready for some exploring?
blog by Niki Wyre
Title: Strange Brigade
Publisher: Rebellion
Platforms: PlayStation 4, Xbox One, PC
Type of game: Action / Adventure / Free Roam
Difficulty: Casual to Intermediate (Difficulty changes depending on how many players, difficulty level or horde mode)
# of Players: 1-4
Rating: (T)een
Replay value:  If you like collecting hidden items, running maps or multiplayer team shooters – Very Good.
Game navigation: Beginners friendly
Mummies? Zombies? A bit of old cursed magic and 4 heroes to choose from. Set in 1930's Egypt.
When my fiance recommended I look up this title I hadn't heard any buzz about it. That was very surprising as I am constantly looking at new games to save away for. I was still working on my Tomb Raider campaign to 100% per usual. So, I took a break to dive in to this historical archaeological adventure against mystery, magic and mayhem. I was pleasantly surprised. Of course with high expectations met playing Tomb Raider, I was ready for another fun game. So here is a breakdown of things I found diving in to 1930's Egypt.
The story line is pretty awesome with the cut scenes. Your narrator is a witty British character that is punny and quite humorous. He narrates like an old radio or TV broadcast as you play along. Each map ends like a radio sign off welcoming you to stay tuned in (return to the story).
The biggest challenge to this game is finding the hidden cats, shooting urns, and solving all the puzzles to find hidden treasures. Sure you can blast through any level / map with your friends or solo but these will unlock certain things, add to your loot for better weapons and make your game completionist heart work at making those achievements. (Trust me I did one level 3 times until I found everything…) The puzzles are fun and make things interesting beyond the typical 3rd person shooter. Everything from coded hieroglyphic doors to finding the right sequence to shoot targets to lifting weights up or down. Some on timers can be a bit frustrating to some but overall are fun to complete. Of course filling your journal and inventory is a plus.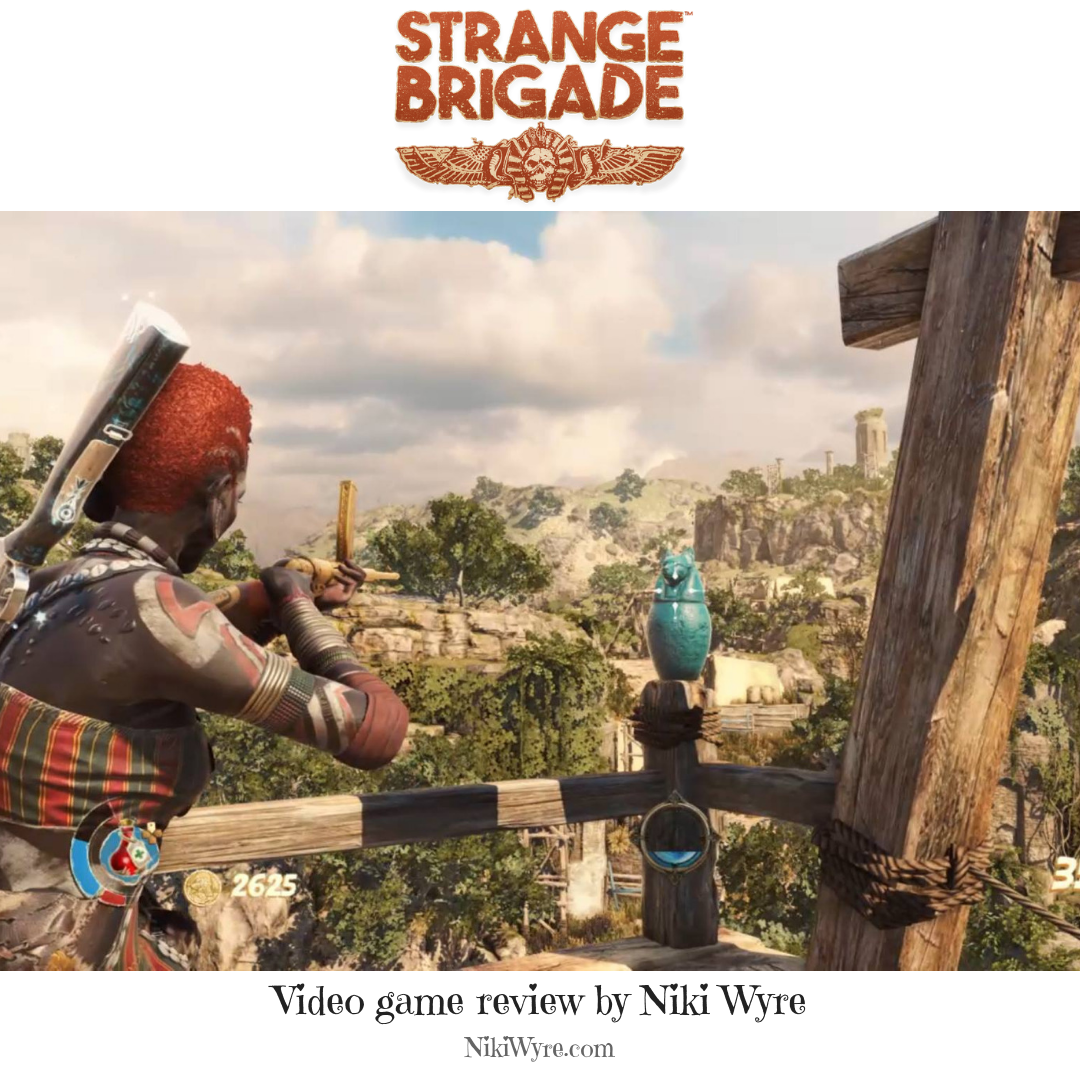 Your heroes are very fun to get to know. Each has their own weapon types and reactions to what is going on around them. There are 4 heroes, two male and two female, to choose from to run your campaign (but new DLC with season pass is adding an additional male character late October and a new female character in November).
The choices for your heroes are as follows:
– Frank Fairburne: a handsome adventurer that is known for his marksmanship and cool temperament while under fire
– Archimedes de Quincey: a bookish but handsome hero that is a noted archaeologist and Oxford scholar
– Nalangu Rushida: an epic heroine that was a female Maasai warrior from Kenya, whose job was to protect her people from demons etc
– Gracie Braithwaite: a sassy redheaded adventurer that is a bit rough around the edges, who wears a bandanna wrapped around her hair and overalls as a nod to her growing up around factories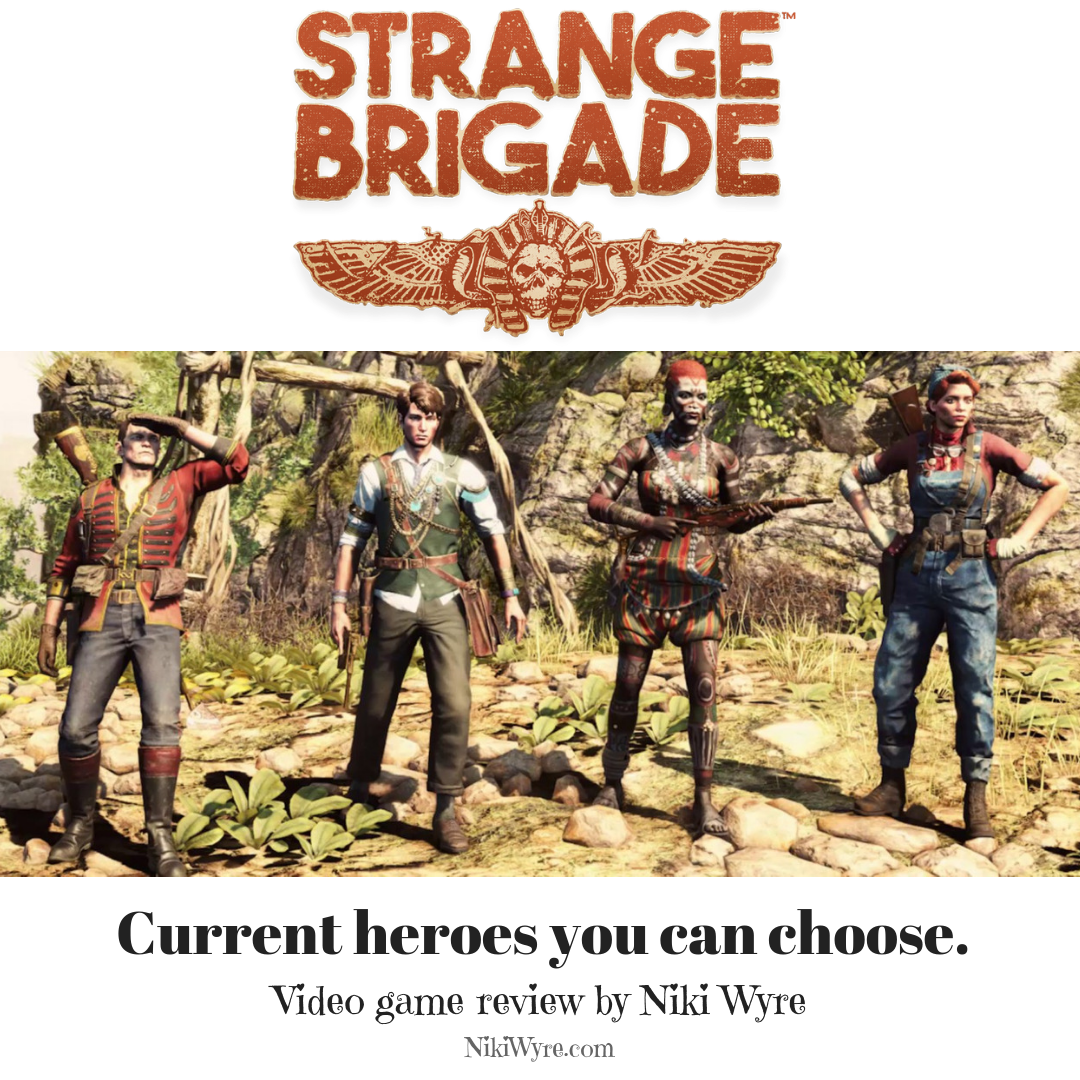 I chose Gracie Braithwaite for my first game. She immediately appealed to me. Though I am very excited to see the new characters that will be coming up in the near future for gameplay. The season pass will bring the new characters, new levels to play, new challenges and more.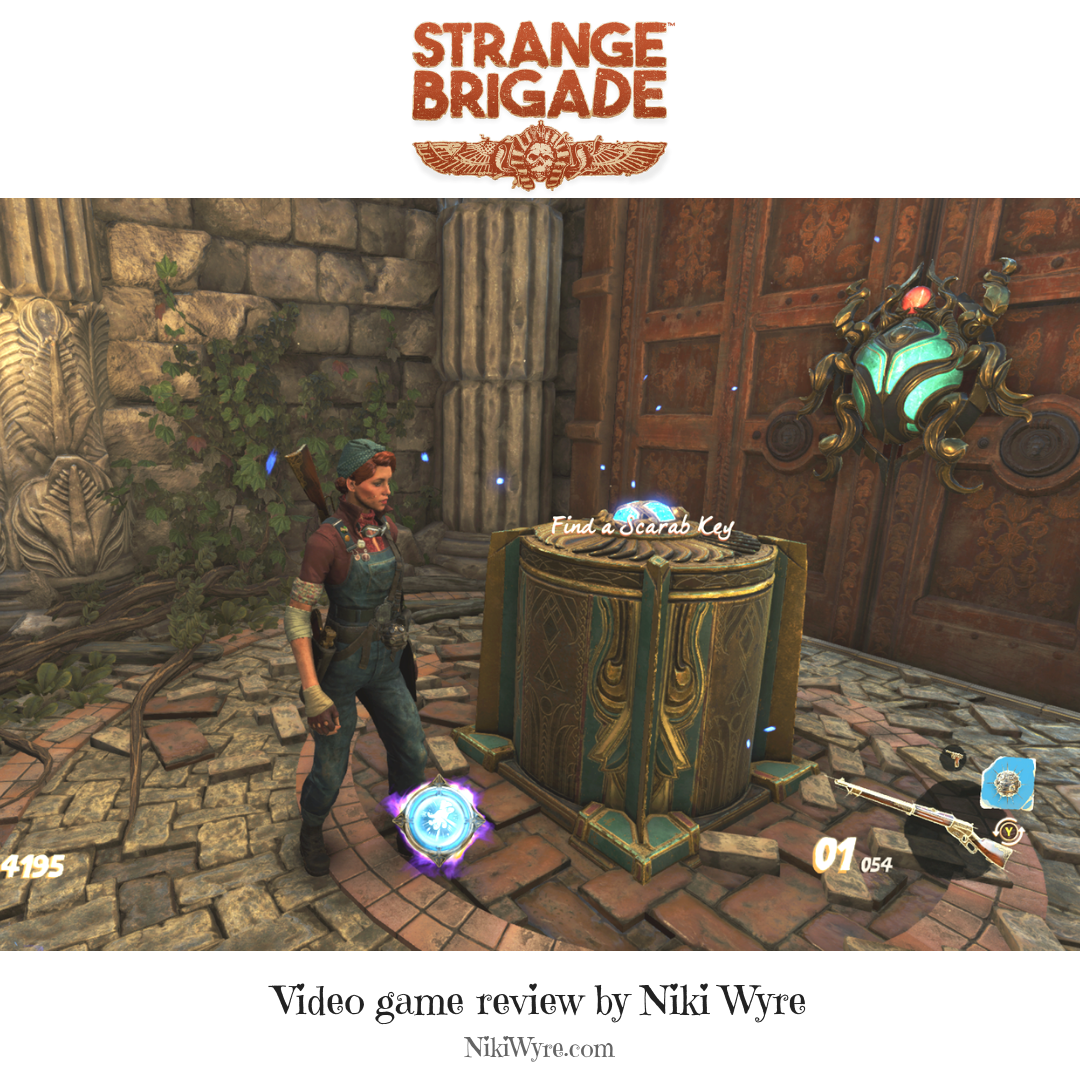 Do you love multiplayer games to play with your friends? I found this to be fun on single player, but if I had friends to play with, it would make it more fun. Some of the hordes and waves can get exhausting by yourself though you will lose the pause feature you get with single player. Of course adding additional players to your game will increase the amount of enemies as well. I would recommend using 1-2 players while you are running through for 1st time or just looking for collectibles. It makes it much easier to spot and get a feel for the story.
I have barely scratched the surface of this game as of today and have put in quite a lot of hours before I was distracted by Destiny 2 (review coming shortly). Finally writing this review has made me want to pick it up again. It really is a fun game.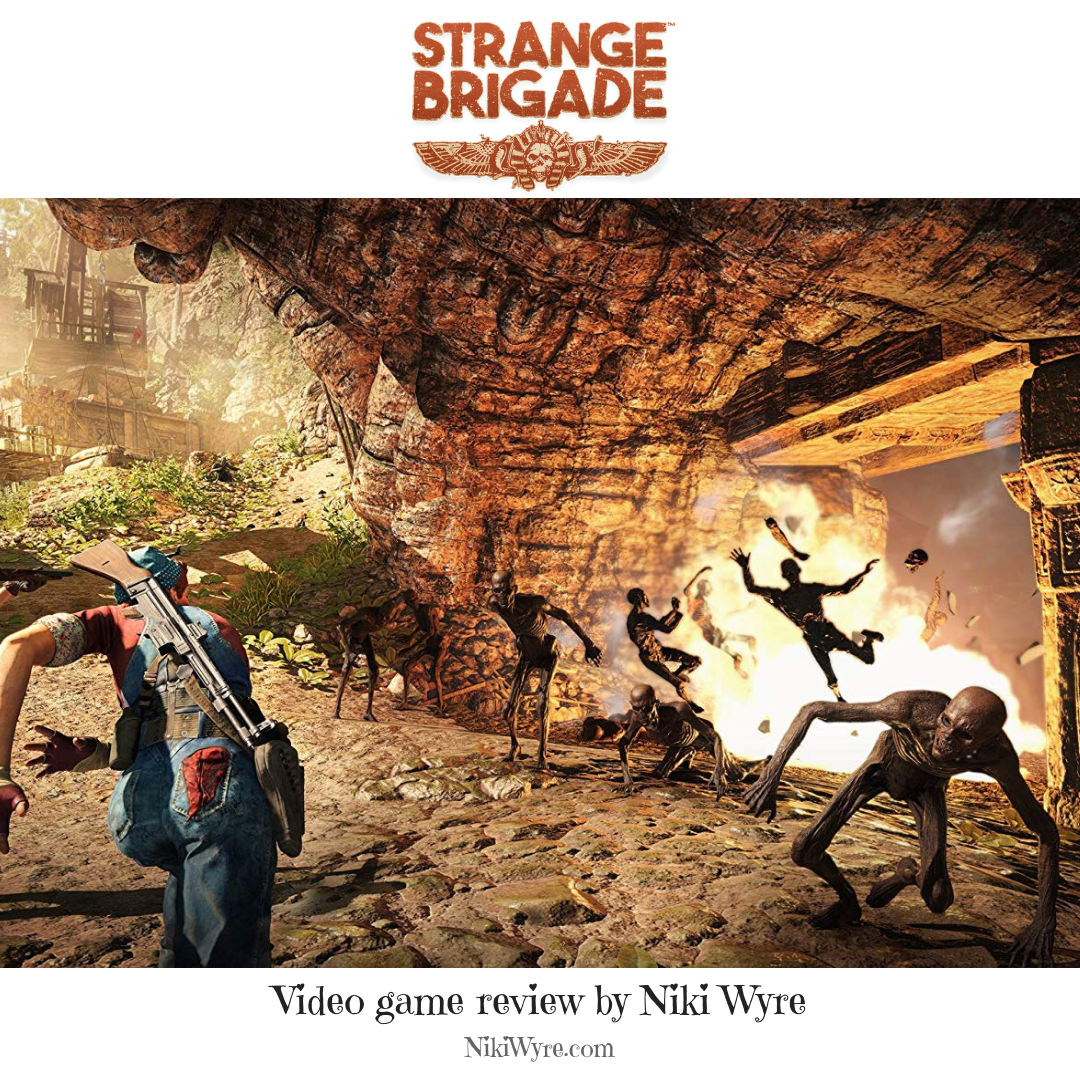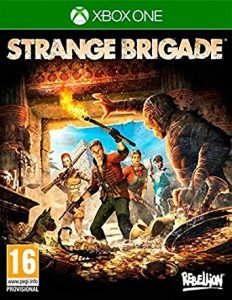 You can find these games on Amazon here:  Strange Brigade for Xbox One or Strange Brigade for PS4. You can purchase the PC digital code from Rebellion on Steam. …or in a game store close to you but make sure you find out in advance as our copy was hard to find. They only had 1 in stock at store so no multiplayer for our household.
Really like the story and want more? You may want to pick up the True History of the Strange Brigade book. Check it out here.
Until next time,
<3 Niki Wyre
 NikiTheGeek