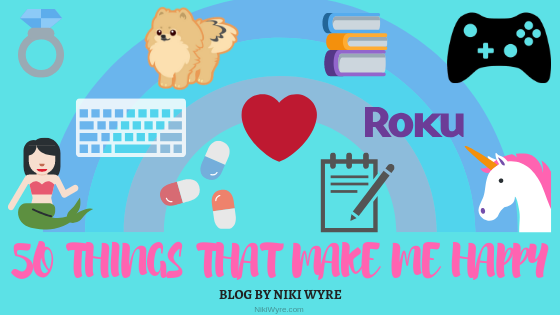 50 Things That Make Me Happy
by Niki Wyre
We all need a bit of positivity these days, so when I was tagged by the awesome Heather of Just Geeking By recently on her 50 Things That Make Me Happy Tag blog, I just knew I had to do it as well. Reflecting on things that make you happy just made you smile. So here goes:
My List of 50 Things That Make Me Happy:
Murphy (my fiance of over 12 years now). He is such a keeper and my rock.
My Pomeranian babies. (Mackenzie, Sebastian, Aria and Jedi.)
My family
My facebook support community of friends and family
Being a Geek
Video Games (especially getting a new one)
My consoles (Xbox One, PS4, Switch, Steam link)
Mobile games
My Kindle and reading books
Comic books
My laptop and gaming pc
Crocheting fun stuff
My bright colored hair
Hugs and kisses
Wifi so I can use internet anywhere in house
Fandoms
Mermaids
Unicorns
Rainbows
Puppy videos
Geeky collectibles
Social Media connections (meeting and reaching out to others)
Blogging
Greek Mythology
Lily's chocolate bars
Fun socks
Binge watching on streaming apps
Biofreeze
Marvel and DC universes shows and movies
D'lites Icecream (keto friendly)
My geeky fashion
Seeing Mackenzie and Aria in their little outfits (jammies on Kenzie is the best smile inducer)
Famous quotes to live by
My tattoos
Fun eye masks (animal faces or geeky ones are the best)
Heating pad (Yes even in Florida)
Doggy cuddles on bad pain days
Losing weight
Tea – iced or hot
Taking pictures to share
Yarn
Hot sauce and being able to eat spicy things again.
Getting to see my nephews and nieces
Listening to 90s grunge and alternative music
Horror / Thriller movies
Medications that help me be more comfortable
Smoothie star body milk lotion by Soap N' Glory
Watching Twitch
Stuffed friends and plushies (the geeky the better)
Setting up my gaming room
What do you think of my list? What do we share in common? I would love to see your reflections on 50 things that make you happy. Good luck!
Until next time,
<3 Niki Wyre
P.S. Sorry for delay in getting to this. I have been under the weather from medical issues. Back in the game again.